Study after study demonstrates the importance of a good night's sleep for optimal health and functioning. According to the American Academy of Sleep Medicine and the Sleep Research Society, adults need 7 hours of sleep per night. Skimping out on sleep can cause health problems such as high blood pressure, heart disease, weight gain and obesity, diabetes, stroke, depression, or a weakened immune system.
However, a 2016 Gallup poll reported that some 40% of adults fail to get 7 hours of sleep a night. Many times, inadequate sleep is the result of a sleep disorder, which can interrupt normal sleep patterns and compromise your health.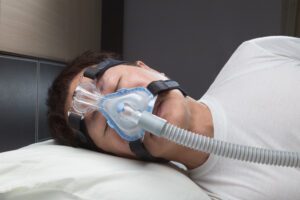 At Prime Medical Associates in Dartmouth, Massachusetts, Dr. Arun Rajan has extensive training and experience in sleep medicine. He can diagnose and treat a wide range of sleep disorders in children and adults age 11 and up, including:
Circadian rhythm disorders
Periodic limb movement disorder (PLMD)
REM behavior disorder
Using advanced tests and sleep studies, Dr. Rajan will evaluate your sleep patterns to determine the source of your sleep problem, make a diagnosis, and recommend a treatment plan. Insomnia can be treated with cognitive and behavioral therapy, which our physicians offer.
Our practice features a comfortable, fully equipped sleep lab accredited by the American Academy of Sleep Medicine where we conduct sleep studies. Dr. Rajan is the director of our sleep lab and he is board certified in sleep medicine.
Sleep Studies
In our advanced sleep lab, our certified sleep technicians can monitor your breathing and sleep over the course of a night. A sleep study measures your sleep cycles and stages by recording data from your body as your sleep. Some of the tests we perform to diagnose sleep disorders include:
Polysomnography (PSG)
Polysomnography with CPAP Titration
Split Night with CPAP Titration (PSG/CPAP)
Multiple Sleep Latency Test (MSLT)
Maintenance of Wakefulness Test (MWT)
Following your sleep study, Dr. Rajan will evaluate the results and review them with you, educate you about your particular sleep disorder, and discuss treatment options.
If Dr. Rajan suspects you may have obstructive sleep apnea, you may be a candidate for a home sleep study. Instead of coming to our sleep lab, you will be given a portable monitoring device to wear while you sleep at home. Sensors record your airflow and breathing rate. The next day, you will return the device to our practice. Dr. Rajan will evaluate the recorded information and review the results with you.
If you think you have a sleep disorder, it is important to seek help from a sleep specialist. To schedule an appointment with Dr. Rajan, call us at (508) 993-9781 in Dartmouth or request one online. Patients visit our sleep lab from throughout Bristol County including New Bedford, Fall River, and Westport.