At Prime Medical Associates, our providers can manage care remotely via remote patient monitoring. We strongly believe in providing cutting edge health care by meeting the needs of our patients remotely.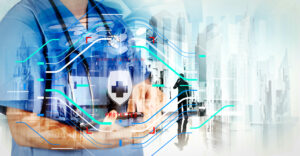 Chronic Care Management
Chronic care management is for patients who suffer from chronic conditions and require continuous care.  If you suffer from chronic conditions such as diabetes, dementia, heart disease, multiple sclerosis, lupus, high blood pressure, hypertension as well as other chronic conditions, our team is here to help you. At Prime Medical Associates, we provide direct care to patients who may be suffering from chronic illness. Our goal is to support patients in the community by delivering timely comprehensive care.
What is Remote Patient Monitoring (RPM)?
Remote Patient Monitoring is an easy-to-use healthcare technology that electronically sends patient health information to your healthcare provider. It allows your provider to monitor your health outside of the clinical setting using devices that measure changes in blood pressure, weight, blood oxygen, blood glucose, and a variety of other potential health data points. This data is then transferred to your provider, without the need to document the readings yourself.
What are the Benefits of RPM?
Enables consistent monitoring, support, and interaction from your healthcare provider to help you effectively manage your health condition and achieve positive long-term health outcomes
Empowers you to maintain a high quality of life
Makes it easier to check in with your provider between visits when necessary
Who Can Use Remote Patient Monitoring?
Any patient who has signed an RPM consent form can use these services. RPM is covered by many health insurance plans, including Medicare. It is best to contact your insurance provider for exact coverage and out-of-pocket expens­es to you prior to beginning an RPM program.
What kinds of devices work with RPM?
BP Monitors
Pulse Oximeters
Blood  Glucose
Weight Scales
Where can I use Remote Patient Monitoring?
Your provider will inform you of the use of the device at home.  You should take your readings as recommended by your provider.  Your provider will show you how to set up and use the medical device(s) prescribed to you in their office. As you begin using your device(s) at home, they will also be available to offer any additional technical support, training, or resources you might need.
When do I use Remote Patient Monitoring?
You can use RPM devices anywhere, including in your home. When using a cellular medical device, there is no need to have internet access, Wifi connectivity, or a smartphone.
For more information about chronic care management and our remote patient monitoring services, contact Prime Medical Associates today!
Telephone & Text:  (508) 917-7153
Email: ccm@primemedicaldartmouth.com